New changes to the Stress-Test!
Yesterday the Department of Finance unveiled they are changing the stress test rules April 6th.
The changes will affect "insured mortgages," which are characterized by their low-downpayment requirements and under $1 million purchase price.
Currently, Bank of Canada restricts our qualifying mortgage rate to 5.19% or the contract rate + 2%, whichever is higher.
Under the new rules, the Bank of Canada is disposing of the 5.19% benchmark, and allowing our new qualifying rate to float based on the Median contract rate for a 5-year insured mortgage + 2%.
This is a huge step in the right direction!
Buyers will have more purchasing power, and the qualifying rate will better match our economic condition.
If we take a household making a $100K under today's standards, they will qualify for a mortgage of roughly $500k.
After April 6th, if our 5-year fixed rates are at 2.79% our same household they would qualify for a mortgage of approximately $525k.
I understand this is not a massive difference in the qualifying amounts, but it is a step in the right direction!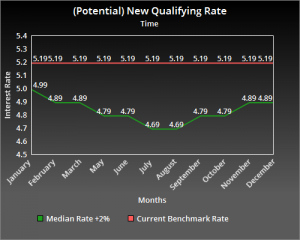 How will this change benefit you?
The "floating" Benchmark Rate will be published on a Wednesday and come into effect the following Monday
Under the new "floating" qualifying interest,  you'll be about to afford more house during periods of a low interest rates.
I suspect we will see an increase in activity in the summer as the typical "summer rate-specials" come out, but we may see a decrease in activity during the winter as rates tend to rise slightly.